Theodore C Stafford1
M, b. circa 1909
Citations
[S1433] 1910 US Census, Illinois, Cook County, Chicago, Washington, DC, ED 415; Ward 7, Page 8A, Ancestry.com, accessed December 29, 2011.
Annie E. Stange1,2
F, b. 31 October 1889, d. 31 May 1960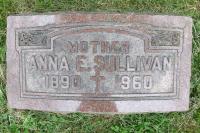 Anna Stange Sullivan (1889-1960)
Graceland Cemetery, Chicago, IL
Photo: Elaine Beaudoin
Photograph by Picasa
Clause Stange1
M
Citations
[S602] George F. Stange, Illinois certificate of death, Family History Library, MF#1877731.
George F. Stange1
M, b. 6 March 1855, d. 2 March 1926
Robert E. Stange1
M, d. before 1926
Death*:

Robert E.

Stange

died before 1926.1
Family:
Alan Robert Steidley1,2,3
M, b. 5 September 1935, d. 10 November 2000
Burke Frandsen Steidley1
M, b. 22 March 1910, d. 5 August 1987
Don Herbert Steidley1,2
M, b. 8 October 1951, d. 28 October 2018
Citations
[S1797] Notes taken by Elena Angelica Morales as told by her father Roberto Morales McIntyre in 2011, Family Information, 2011, Elaine McIntyre Beaudoin, personal files, Manuscript provided by Patricia Morales Tijerino, August 12, 2013.
[S981] California Births, 1905-1995, online www.californiabirthindex.org, Don Herbert Steidley entry, Ancestry.com, accessed August 15, 2013.
[S2724] Patricia Morales Tijerino, "Don Steidley's passing," e-mail to Elaine Beaudoin, October 30, 2018, Included an email forwarded from Emily Steidley Bushong, daughter of Don Steidley, dated October 28, 2018.