Thomas H. Hoy
M, b. 1866, d. 27 December 1947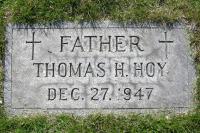 Thomas H. Hoy cemetery marker
Calvary Cemetery, Evanston, Illinois
Photograph: Elaine Beaudoin
Photograph by Picasa
Birth:

Thomas H.

Hoy

was born circa 1865.1

Birth*:

Thomas was born at Illinois, USA, in 1866.

Marriage License:

He and Mary

Sullivan

obtained a marriage license on 6 June 1888 at Chicago, Cook County, Illinois, USA.1

Marriage*:

He married Mary

Sullivan

at Holy Family Church, Chicago, Cook County, Illinois, USA, on 7 June 1888. Married by Pastor E. D. Kelly, S.J..1,2

Occupation:

Thomas H. Hoy was a clerk on 13 June 1900.3

Census 1900*:

He and Mary

Sullivan

appeared on the 1900 census of 13 June 1900 at 918 S. Sawyer Avenue, Chicago, Cook County, Illinois, USA; In 1900, Mary Hoy reports she has had seven childrne and five are living.3

Census1910*:

Thomas was listed as the head of a family on the 1910 Census at Chicago, Cook, Illinois, USA. Thomas Hoy 44. Lived at 3917 Gladys, Chicago, Illinois in the 1910 U. S. Census.

Occupation*:

He was Manager, grocery store on 2 January 1920.4

Residence:

They resided at Chicago, Cook County, Illinois, USA, on 2 January 1920, at 3917 W. Gladys Avenue.4

Census 1930*:

He and Mary

Sullivan

appeared on the 1930 census of 11 April 1930 at 4152 W. Washington Boulevard, Chicago, Cook County, Illinois, USA.5

Residence*:

He resided at Chicago, Cook County, Illinois, USA, in 1930, at 4152 W. Washington.5

Employment*:

Thomas's occupation: Law Dept., Chicago Surface Lines at Chicago, Cook, Illinois, USA, in 1930.5

Death*:

Thomas died on 27 December 1947 at Chicago, Cook, Illinois, USA.6,7

Burial*:

He was buried on 30 December 1947 at Calvary Cemetery, Evanston, Cook County, Illinois, USA. He is buried in lot 8, block 10, section Z.8
Thomas Henry Hoy1
M, b. 9 March 1923, d. 16 July 2007
Unknown Huemmer
M
Citations
[S1156] 1920 US Census, Illinois, Cook County, Chicago, Washington, DC, ED 1842, Ancestry.com, accessed April 3, 2010.
Edwin John Hughes1,2
M, b. 15 July 1916, d. 23 January 2007
Birth*:

Edwin John

Hughes

was born on 15 July 1916.2

Death*:

He died on 23 January 2007 at Northbrook, Cook County, Illinois, USA, at age 90; Edwin J. Hughes, of Northbrook, Jan. 23, 2007, beloved husband of Rosemary, nee Riordan; loving father of John (Mary), Sharon (Ken) Christy, Edwin, III (Ann Brickson) and Thomas (Kathy); proud grandfather of Amy Brabender, Kathie, Molly, Brian and Brendan Christy, Christopher Hughes, Claire Brickson, Patrick and Timothy Hughes; brother of Noreen Young. Visitation Saturday, 10 a.m., until time of funeral Mass, 10:30 a.m., at St. Norbert Church, 1809 Walters Ave., Northbrook. Interment All Saints. In lieu of flowers, memorials may be made to University of St. mary of the Lake, Attn: Development Office, 1000 E. Maple Ave., Mundelein, IL, 60060. Arrangements by N. H. Scott & Hanekamp, Glenview, 847-998-1020.
Chicago Tribune, January 25, 2007, page 11.3,2

Burial*:

He was buried on 27 January 2007 at All Saints Cemetery, Des Plaines, Cook County, Illinois, USA.3
George Hutter1
M, b. May 1882
Peter Hutter1
M, b. circa 1852
Elizabeth Ann Jackson1
F
Marriage*:

Elizabeth Ann

Jackson

married Alexander

Hannah

.1

Married Name:

Her married name was Hannah.1
Citations
[S2145] Thomas Jackson Hannah, Hamilton, Wentworth, Ontario, Canada birth record #036437, Accessed on FamilySearch.org June 7, 2015 (June 5 1878).
Betty Ann Jenneman
F, b. 7 September 1926
Anecdote*:

(an unknown value).

Married Name:

As of 6 September 1947,her married name was Sullivan.1

Marriage*:

She married Philip Michael

Sullivan

Jr. at Salem, McCook County, South Dakota, USA, on 6 September 1947.1,2

Residence*:

She resided at St. Louis, St. Louis County, Missouri, USA, in 1990.3
Mary Jesswein1
F, b. 29 March 1968, d. 29 March 1968
Citations
[S1179] Mary Jesswein Cemetery record, Queen of Heaven Cemetery, Hillside, Cook County, Illinois, USA.
[S1346] Cook County Clerk's Office, online http://www.cookcountygenealogy.com, Jesswein, R Judy &, accessed April 20, 2010, file number 610086.
John H. Johnston1
M
Citations
[S1255] Bernice Dreimuller, Dreimuller, Bernice death certificate, FamilySearch.org, Illinois Death Records, accessed October 9, 2010.