Vernamae Klein
F, b. 13 February 1941, d. 16 September 2017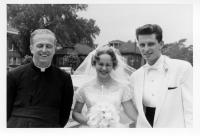 Wedding of Robert T. Elliott and Vernamae Klein
Chicago, Illinois; July 11, 1960
With Thomas J. McIntyre, CM
Photo courtesy: Thomas J. McIntyre, CM
Photograph by Picasa
Citations
[S8] Ginty/McIntyre Family Tree, 1995 Elaine McIntyre Beaudoin, personal files.
[S1978] Ancestry.com Family Trees, online www.ancestry.com, Fred Elliott Family Tree, created by brokerfred, Lehigh Acres, Florida. Accessed April 9, 2018.
[S2195] Cook County, Illinois Marriage Index, 1930-1960, online www.Ancestry.com, Robert T. Elliott and Vernamae Klein, 11 Jun 1960, file number 2570708.
Barbara Knappstein1
F, b. 17 May 1861, d. 3 March 1931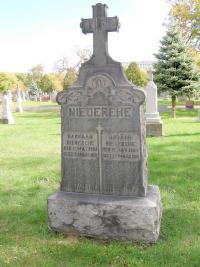 St. Benedict's Cemetery, Chicago
Ferdinand Knappstein1
M, b. before 1841
Birth*:

Ferdinand

Knappstein

was born before 1841; Birth year assumed based on birth date of daughter.1

Marriage*:

He married Theresa

Trehler

circa 1860; Marriage date one year before birth of daughter.1

Residence*:

They resided at Jefferson, Cook County, Illinois, USA, before 1886.1
Citations
[S1306] Marriage Register Entry: entry for Johan Niederehe and Barbara Knapstein, May 25, 1886 St. Peter Church, Skokie, Illinois, Family History Library, MF#1548257, Baptisms, Communions, Confirmations, Marriages, deaths, 1868-1914.
Leonard J. Kneidl1,2
M, d. 3 January 1971
Marriage*:

Leonard J.

Kneidl

married Rita M.

Hincks

, daughter of Matthew

Hincks

and Delia E.

Madigan

, on 12 July 1952 at Cook County, Illinois, USA.1,3

Death*:

Leonard J. Kneidl died on 3 January 1971 at Chicago, Cook County, Illinois, USA;
Leonard J. Kneidl, beloved husband of Rita M. Kneidl, nee Hincks; father of Donald; dear brother of Daisy O'Hara. Funeral Thursday, 1 p.m., at Blake-Lamb Chapel, 5800 W. 63rd St. Interment Mount Greenwood Cemetery. Pension member of Local 705. I. B. of T., Combat Veteran of World War II and Purple Heart Assoc. 735-4242.
Chicago Tribune, January 5, 1971, page 22.4,5

Burial*:

He was buried on 7 January 1971 at Mount Greenwood Cemetery, Chicago, Cook County, Illinois, USA.5
Edward Martin Kralovec1,2,3
M, b. 29 September 1888, d. April 1967
Bertha Agnes Kreft1,2
F, b. 29 September 1885, d. 20 April 1967
Citations
[S1504] April 19 1910 US Census, Oregon, Wasco County, Dalles City, Washington, DC, ED 304, sheet 4B, Family History Library, MF# 1375303, accessed April 6, 2004.
[S1864] Basel/Tozzi Family Tree, "Paul L. F. Kreft Family Group Sheet", Printed from online genealogy database. Owner: karolbasel.
Charles August Kreft1,2
M, b. 7 August 1887, d. 10 July 1904
Edward William Kreft1,2
M, b. 25 February 1890, d. 26 November 1910
Birth*:

Edward William

Kreft

was born on 25 February 1890 at The Dalles, Wasco County, Oregon, USA.1,2

(Witness) Census 1910:

He appeared on the 1910 census of 19 April 1910 in the household of Catherine Ann

McIntyre

at The Dalles, Wasco County, Oregon.1

Death*:

Edward William Kreft died on 26 November 1910 at The Dalles, Wasco County, Oregon, at age 20.3,4,2
Ellen Marie Kreft1,2
F, b. 19 March 1895, d. 26 January 1918
Frances Elizabeth Kreft1
F, b. 25 August 1881, d. 29 July 1896