Virginia Lucille Fowler1
F, b. 11 October 1921, d. 9 December 1979
Name Variation:

As of 11 October 2921, Virginia Lucille

Fowler

was also known as Loretta.2

Birth*:

She was born on 11 October 1921 at Augustana Hospital, Chicago, Cook County, Illinois, USA.2,1,3,4

Residence:

She lived in 1921 at 6413 N. Clark Street, Chicago, Cook County, Illinois, USA.2

Biography*:

Her death certificate states that her origin of decent is German.3

Name Change:

On 10 June 1941 her name was legally changed to Virginia Fowler Supplemental Report: Correction of Birth Record signed by Catherine V. Fowler, mother.5

Marriage*:

She married William Herman

Rohloff

, son of William Herman Martin

Rohloff

and Lillian

Wessolick

, on 19 August 1943.1,3

Married Name:

As of 19 August 1943,her married name was Rohloff.1

Residence*:

Virginia Lucille Fowler lived in 1979 at 1325 W. Eddy, Chicago, Cook County, Illinois, USA; Home was owned.3

Death*:

She died on 9 December 1979 at Ravenswood Hospital, Chicago, Cook County, Illinois, USA, at age 58.1,3,6

Burial*:

She was buried on 11 December 1979 at Rosehill Cemetery, Chicago, Cook County, Illinois, USA; Photo of headstone in file.3
Walter E Fowler1
M, b. circa February 1860
John Fox1
M, d. before 1915
Christina M. Frandsen1
F, b. circa 1885, d. 1 April 1957
Arthur T. Frank Sr.1,2,3
M, b. 27 September 1894, d. 13 August 1953
Note*:

Arthur T.

Frank

Sr. Lisa Frank located a birth certificate for Amandus Frank, born 27 Sept 1894, Cook County, Illinois, born in Chicago. The father is listed as Wilhelm Frank, but the mother is listed as Ana Marie Wehrli. It is likely that Anna Berbach, who is listed as the mother on Arthur T. Frank Sr., death certificate, is incorrect. More research needs to be done.
Email from Lisa Frank on December 2, 2014. on 27 September 1894.4

Birth*:

He was born on 27 September 1894 at Chicago, Cook County, Illinois, USA.2,1

Marriage*:

He married Alma I.

Rohloff

, daughter of William Herman

Rohloff

and Sophie

Künn (Kenn)

, before 1917.2

Occupation*:

Arthur T. Frank Sr. was Salesman of law books on 12 January 1920.2

Census 1920*:

He and Alma I.

Rohloff

appeared on the 1920 census of 12 January 1920 at 4035 Bernard Avenue, Chicago, Cook County, Illinois, USA.2

Biography*:

Arthur was not in the military per his death certificate.1

Residence*:

Arthur T. Frank Sr. and Alma I.

Rohloff

lived before 1951 at 4236 N. Francisco Avenue, Chicago, Cook County, Illinois, USA.5

(informant) Death:

Arthur T. Frank Sr. was an informant on the death certificate of Alma I.

Rohloff

on 26 March 1951 at Chicago, Cook County, Illinois, at age 54;
Frank - Alma I Frank, nee Rohloff, beloved wife of Arthur T. Sr., dearly loved mother of Mildred, Arthur Jr., and William, grandmother of William, Robert, Barbara, and Ronald, sister of Sophie Sorensen, Hattie Freyer, and William Rohloff. At funeral home, 3918 Irving Park road. Service Friday, 1:30 p.m. Interment Acadia Park.
Chicago Tribune, March 15, 1951, page NA9.5,6,7

Occupation:

Arthur T. Frank Sr. was an inspector at the Stewart Warner Corporation in Chicago before 1953.1

Death*:

He died on 13 August 1953 at Chicago, Cook County, Illinois, at age 58;
Frank -- Arthur T. Frank, Sr. husband of the late Alma, nee Rohloff, dear father of Mildred, Arthur Jr., and William, grandfather of William, Robert Barbara and Ronald, brother of William, Pearl Borchardt, Le Roy, and Virgil. At funeral home, 3918 Irving Park road. Service Monday, 1:30 p.m. Interment Acacia Park.
Chicago Tribune, August 15, 1953, page 12.1,8

Burial*:

He was buried on 17 August 1953 at Acacia Park Cemetery, Norwood Township, Cook County, Illinois, USA.1
William Frank1
M
Citations
[S1273] Sr. Arthur T. Frank, Illinois Medical Certificate of Death.
Herman Fredrick1
M, b. 20 September 1906, d. 19 April 1977
Robert L. Fredrick1
M, b. 26 June 1939, d. 28 August 2009
Birth*:

Robert L.

Fredrick

was born on 26 June 1939 at St. Joseph, Berrien County, Michigan, USA.3,1,4

Residence*:

He lived on 19 April 1977 at Salt Lake City, Salt Lake County, Utah, USA.1

Death*:

He died on 28 August 2009 at Salt Lake City, Salt Lake County, Utah, at age 70; Robert Fredrick "Fred" - Robert Louis Fredrick died peacefully at his home on August 28, 2009 succumbing to cancer after an intense three month illness. Robert (know to many, including his wife, as "Fred") was born on June 26, 1939, to Herman Fredrick and Katherine Batke Fredrick in St. Joseph, Michigan, the second of their three children. He attended Lutheran School through the eighth grade and graduated from St. Joseph High School in 1957. Robert joined the U.S. Navy in 1957 and served two separate enlistments in the Western Pacific earning Good Conduct Medals, the National Defense Service Medal, and the Armed Forces Expeditionary Medal for service in Vietnam. Robert married Ruth LaRee Erickson on May 1, 1964, in Seattle, Washington. They lived for two years in Honolulu, Hawaii. He left the Navy in 1966 and the family moved to Seattle. Robert finished his education there and graduated with a Bachelor of Arts Degree in Business, specializing in Finance, from the University of Washington in 1968. He was a member of Alpha Kappa Psi, professional business fraternity. After graduation, he worked at Pacific National Bank of Seattle in the Trust Department. Later, he joined the Tandy Corporation at Radio Shack. He rose to District Manager and accepted a transfer in 1975 to Salt Lake City, Utah where he lived the remainder of his life. His career encompassed retail sales, sales management, service management, delivery services, and manufacturing. He solely owned and headed two successful small businesses and was managing partner in a third. He acted as financial consultant to two startup companies. While employed by the U. S. Postal Service, he was actively involved with Local 332 of the Mail Handlers Union. Raised in the Lutheran faith, he was later baptized a member of The Church of Jesus Christ of Latter-day Saints in 2000. He was an accomplished golfer, who used his 6'5" frame to drive a mile off the tee. He played basketball as the center on his youth teams, many times as captain, and remained an avid fan throughout his life. March Madness and the NBA Finals were mandatory viewing. He also enjoyed tennis, and was a dedicated football fan. Survived by his wife, Ruth; three children and their spouses, -- Blane Scott and Joyce Fredrick, Alison Christine and Jeff Peterson, and Stephanie LaRee Brown; seven grandsons and six granddaughters--Jason, Megan, Kyle, Emma, Nate and Abigail Fredrick, Kirsten, Rob and Eric Peterson, John Barrett, Austin, Erin and Emily Brown. Also survived by older brother and his wife, Donald W. and Barbara Fredrick, of Ypsilanti, Michigan; and a younger sister and her husband, Jeanne and Robert Hartman, of Stevensville, Michigan, two nieces, Heidi and Hope and four nephews, David, Mark, Chad and Drew. His Godmother, Anna Batke Pesko, also survives. Fred loved Ruth's five sisters and their families, and was a caring and helpful son-in-law to her mother, Nina Erickson. Funeral services will be at high noon on Thursday, September 3, 2009, at The Church of Jesus Christ of Latter-day Saints, South Cottonwood Chevy Chase Ward chapel, 5235 South Wesley Road (1125 East). Friends and loved ones may arrive after 11:00 a.m. for viewing and hugging prior to the start of the service. Burial will be at Murray City Cemetery, 5490 South Vine Street, Jenkins-Soffe Mortuary is overseeing the arrangements. Ruth wishes to publicly thank Taylor A. Jeppson, M. D. for all he has done during more than 30 years as our family physician. He has been a blessing in our lives. The family greatly appreciates the expert care and gentle attention given to Robert and his family by many dear representatives from Inspiration Hospice. We came to love you all.
Note: Received a note from Robert's brother, Don, saying the actually death was August 30, 2009. Received email on September 4, 2017.3
Amanda Freeze1
F
Marriage*:

Amanda

Freeze

married Francis H.

Whalen

.1

Married Name:

Her married name was Whalen.1
Citations
[S2168] Whalen Family Photograph, c1900, Elaine McIntyre Beaudoin, personal files, Pictured left to right: Rose, Francis H., Helen, Amanda (Freeze) and George Adam. Received in email from Jane Domke, July 9, 2015.
Evelyn Emma Freyer1,2
F, b. 25 December 1917, d. 1990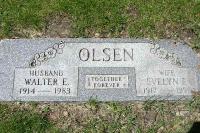 Walter and Evelyn (Freyer) Olsen grave marker, Montrose Cemetery, Chicago