Bart Elliott
M, b. 1963, d. 1 September 1977
Charles Elliott1
M, b. 1907, d. 1990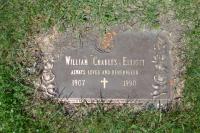 William Charles Elliott (1907-1990)
Mt. Emblem Cemetery
Photo: Elaine M. Beaudoin July 1, 2017
Photograph by Picasa
Robert Parker Elliott
M, b. 11 October 1911, d. 3 October 1982
Robert Parker Elliott 1911-1982
Portion of a photo with extended family c1959
Photo courtesy: Ellen Allen
Photograph by Picasa
Robert Thomas Elliott
M, b. 2 March 1937, d. 12 July 2016
William Monroe Elliott1
M, b. 1877, d. 1955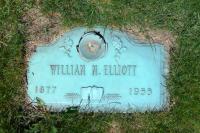 William M. Elliott (1877-1955)
Mt. Emblem Cemetery, Elmhurst, Illinois
Photo: Elaine Beaudoin July 1, 2017
Photograph by Picasa
Helen Ellison1,2
F, b. 1898, d. 23 October 1966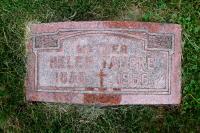 Helen Taucke (1898-1966)
Graceland Cemetery, Chicago, Illinois
Photo: Elaine Beaudoin
Photograph by Picasa
Citations
[S683] Peter I. Sullivan Cemetery Grave Card, Graceland Cemetery, Chicago, Illinois, Maplewood Section, #516.
[S2714] Christine Sullivan, "McIntyre-Sullivan Family History - Main Page," e-mail to Elaine Beaudoin, October 9, 2018, Christine found my website and offered updates.
[S1328] Chicago Tribune, October 25, 1966, page B8, ProQuest Historical Newspapers Chicago Tribune, accessed February, 2011.
Arthur L. Engler1
M, b. 1 May 1911, d. 12 July 2006
Charles Engler1
M, b. after 1936, d. before 2006
Citations
[S1221] The Herald-Palladium, July 14, 2006, page 5A.
Catherine English
F, b. 1868
Elizabeth English
F
Married Name:

Her married name was Fiesel.1

Marriage*:

She married Unknown

Fiesel

.1
Citations
[S303] The Evanston Review, November 19, 1936.