Patrick Reilly1
M, d. before 1901
Marriage*:

He married Rose

Sullivan

circa 1874. Marriage date estimated on the date of birth of oldest child..1

Death*:

Patrick died before 1901. Wife, Rose, is a widow in 1901 Irish Census.2
Peter Reilly
M, b. circa 1883
Rose Reilly
F, b. 1880, d. 14 August 1954
Birth*:

Rose was born in 1880.2

Married Name:

As of circa 1896,her married name was Soden.3

Marriage*:

She married Patrick

Soden

circa 1896.3

(Witness) Census:

Rose Reilly appeared on the census of 1901 in the household of Patrick

Soden

at Kilnacreevy, Stradone, County Cavan, Ireland.4

(Witness) Census:

Rose Reilly appeared on the census of 1911 in the household of Patrick

Soden

at Kilnacreevy, Stradone, County Cavan.3

Residence*:

She resided at Kilnacreva, Stradone, County Cavan, Ireland, on 19 June 1916.5

Death*:

Rose Reilly died on 14 August 1954 at Kilnacreva, County Cavan, Ireland.
SODEN
In loving memory of Rose Soden, Kilnacreeva, who died 14th August, 1954, R. I. P.
-- Always remembered by her loving family.
Anglo-Celt, August 13, 1982, page 2.6
George Reiser1
M, b. 27 July 1888, d. 7 October 1923
Harry Reiser1
M, b. after May 1920, d. October 1981
Citations
[S1676] Find A Grave, online http://findagrave.com, Margaret Glover Goldberger, Mount Carmel Cemetery, Hillside, Cook County, Illinois. Created by Carleen Malone, Jan 28, 2002; Memorial # 6131252.
[S309] US Social Security Death Index, 1935-Current, Ancestry.com, Harry Reiser, SSN # 339-10-5833, accessed August 20, 2015.
[S1676] Find A Grave, online http://findagrave.com, Harry Reiser, Memorial#12576864 created by Carleen Malone on December 1, 2005. Accessed August 20, 2015.
Annie Reiss1
F, b. 28 March 1865, d. 1902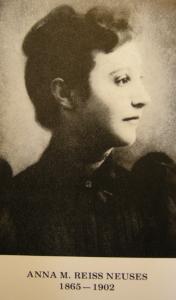 Anna M. Reiss Neuses 1865-1902
Photo: Genealogy of the Family of
Clemens A. Reiss and Anna M. Mallmann Reiss
Photograph by Picasa
Birth*:

Annie

Reiss

was born on 28 March 1865 at Sheboygan, Sheboygan County, Wisconsin, USA.1,2

Name Variation:

As of 22 June 1871, Annie Reiss was also known as Anna Maria.2

Married Name:

As of 25 September 1894,her married name was Neuses.1

Marriage*:

She married Peter

Neuses

on 25 September 1894.1

Death*:

Annie Reiss died in 1902.3
Citations
[S1906] Carl Ziller, History of Sheboygan County, Vol II, pages 701-704. Reprint: Brookhaven Press, 2000; La Crosse, Wisconsin.
[S2076] Anna Maria Reiss, Birth registration File # 01743 (June 22, 1871).
[S2083] Reiss, Reiss Family Genealogy, 1973, Original copy viewed at the Wisconsin Historical Society.
Clemens Reiss1
M, b. 7 November 1835, d. 1 June 1896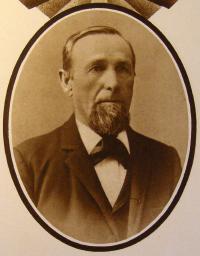 Clemens Reiss 1835-1896
Source: The C. Reiss Coal Company
50th Anniversary 1880-1930
Photograph by Picasa
Clemens A. Reiss1,2
M, b. 16 August 1887, d. 3 November 1941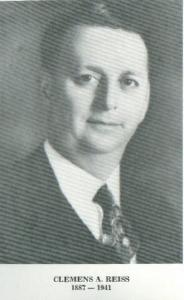 Clemens A. Reiss, 1877-1941
Clemens Anthony Reiss1
M, b. 15 August 1916, d. 14 June 1968
Citations
[S1680] James and Anastasia Connor Family Bible.
[S224] Connor-Colfour Family, Research of Daniel R. Schattnik, 24 pages, Received via U.S. mail February 13, 2001 from Daniel Schattnik Elaine McIntyre Beaudoin, personal files.
[S1676] Find A Grave, online http://findagrave.com, Clemens Anthony Reiss, record added June 2, 2009, Memorial #39912408, accessed November 5, 2013.
Edmund Reiss1
M, b. 14 March 1869, d. 23 July 1892