Bartholomew McIntyre1,2
M, b. before 1 May 1854, d. 17 November 1924
Bartholomew McIntyre1
M, b. 18 August 1890, d. 13 January 1935
Bartolo McIntyre1,2
M, b. 9 May 1913, d. 27 November 1980
Blanche Catherine McIntyre
F, b. 9 April 1914, d. 15 November 1978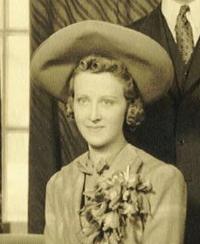 Blanche McIntyre Elliott, 1941
Bridget McIntyre1
F, b. 1 August 1881, d. 17 August 1945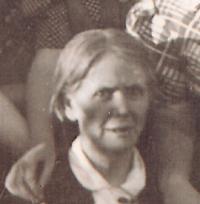 Bridget McIntyre Haran, c 1930s
Bridget McIntyre1
F, b. circa 1825
Citations
[S2858] 1855 New York State Census, New York City, New York, Ancestry.com, Accessed by Dolly Purcell, July 2020.
[S2857] Laura Murphy DeGrazia, Irish Relative and Friends, 1850-1871: "Of Mary McIntyre, a native of the Parish of Kilmacteige, County Sligo, who married Hugh McGlauhin, of County Meath, Ireland. Also of her sister Bridget, who married Samuel Smith, an American by birth. When last hear from, they resided in the State of New York. Any information of them will be thankfully received by their brother, Patrick McIntyre, who lately arrived, by writing to him in care of Patrick Foy, 81 Baxter Street, New York."
Catherine McIntyre1
F, b. circa 1841
Citations
[S2852] 1850 US Census, New York, Fulton County, Johnstown, Washington, DC, Fulton County, page 80B, line 32, Accessed Ancestry.com July, 2020.
[S2853] 1855 New York State Census, Johnstown, Fulton County, New York, ED 3, Household No. 243, LIne 1, sheet 457; Accessed: Ancestry.com, Accessed, July, 2020.
Catherine "Kate" McIntyre
F, b. before 5 July 1879, d. before 1911
Citations
[S8] Ginty/McIntyre Family Tree, 1995 Elaine McIntyre Beaudoin, personal files.
[S2340] Kilmacteigue Parish, Co. Sligo, Ireland, "Kilmacteigue Parish Records," Baptismal entry, Register B5, page 219, entry 1752, (Transcribed by the Sligo Heritage Center), Catherine McIntyre.
[S1751] 1911 Irish Census, County Sligo, Kilmactigue Civil Parish,Tobbercurry, Lislea Townland, Dublin, 68/7, line 8.
Catherine Ann McIntyre1,2
F, b. 17 March 1861, d. 1 May 1914
Cora A. McIntyre1,2
F, b. circa 1879
Citations
[S1499] Morning Enterprise, September 15, 1931, page 1.
[S1738] Lorna Elliott, Oregon Wasco County Marriages 1900-1914, page 32.
[S1505] June 8 1880 US Census, California, San Francisco County, San Francisco, Washington, DC, 2nd Ward, page 280C, Family History Library, MF# 1254073, accessed April 6, 2004.