Kenneth Joseph Leibach1
M, b. 23 June 1923, d. 16 February 2019
Birth*:

Kenneth Joseph

Leibach

was born on 23 June 1923 at Cook County, Illinois, USA.1

Biography*:

LEIBACH - Edward J. Leibach Sr., beloved husband of Marcella Leibach, fond father of Edward Jr., Mrs. Marcella Buckeridge and Kenneth Leibach, brother of Mrs. Anna Lutke. Funeral Wednesday at 9:30 a.m. from funeral home 1353 Devon av. to St. Gertrude's Church and Calvary Cemetery.
Chicago Daily News, December 16, 1940, page 27.


Marriage*:

He married Cecilia K.

Jurek

, daughter of John

Jurek

and Victoria

Stozek

, on 15 January 1943 at Illinois, USA.2,3

Residence*:

Kenneth Joseph Leibach lived on 19 April 2016 at Springfield, Green County, Missouri, USA.2

Death*:

He died on 16 February 2019 at The Villages, Lake County, Florida, USA, at age 95.4
Kenneth Joseph Leibach Jr.1
M, b. 23 February 1948, d. circa 16 May 2019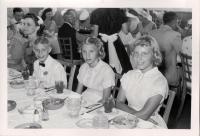 Cecelia Jurek Leibach with children Ken,
Cathy and Carole.
July 27, 1957
Photo courtesy: Ken Leibach, Jr.
Photograph by Picasa
Citations
[S2315] Kenneth J. Leibach, "Connor connection," e-mail to Elaine M Beaudoin, April 19, 2016.
[S2383] Kenneth J. Leibach, "Family Tree, Version 1", Family Tree provided to Elaine M. Beaudoin by Kenneth J. Leibach, Jr., on September 28, 2016.
[S945] Facebook, online www.facebook.com, On Ken Leibach's Facebook page, the tributes begin for Ken on May 16, 2019.
Marcella Leibach
F, b. 10 December 1916, d. 27 May 1995
Robert Buckeridge (1917-1997) and
wife Marcella Leibach Buckeridge (1916-1995)
Photo c 1950s
Photo courtesy: Kenneth Leibach, Jr.
Photograph by Picasa
Gregory D. Leishman1,2,3
M, b. 3 March 1951, d. 7 May 2012
Birth*:

Gregory D.

Leishman

was born on 3 March 1951 at San Francisco, San Francisco County, California, USA.2

Residence*:

He lived in 1980 at Millbrae, San Mateo County, California, USA.2

Death*:

He died on 7 May 2012 at Millbrae, San Mateo County, California, at age 61; Gregory Dee Leishman March 3, 1951 - May 7, 2012 Greg passed away peacefully at his home in Millbrae with his family by his side. He was 61 years old. Greg is survived by his beloved wife of 37 years, Mary Jo Leonard-Leishman. Proud father to daughter Justine (Kevin) Venezia and son Michael (Daniella) Leishman. Loving Grandpa to Thomas and Paige Venezia and Vincent Leishman. He is also survived by his sister, Julianne (Joe) Bronner and their family. Greg was born on March 3, 1951 in San Francisco to Dee and Terese Leishman who preceded him in death. He grew up in South San Francisco and attended St. Veronica's and El Camino Highschool, graduating in 1969. He married his high school sweetheart in 1975 and moved to Millbrae in 1980 where they raised their family. Greg was a devoted family man who took pleasure in the simple things, such as family dinners, backyard poker games, fishing, going to the beach and watching his kids and grandkids play sports. He was a lifelong fan of the SF Giants and 49'ers. He loved horseracing and spent many days at the track with Sharkey. Greg was a bighearted guy who would lend a hand to anyone in need. He had a wonderful sense of humor and quick wit. He laughed a lot and always had a funny story to share. Greg loved history and current events; he read several newspapers daily and could speak in-depth on any subject. Greg was one of a kind and if you ¿got¿ him you couldn't help but like him. Those lucky enough to be closest to him loved him deeply and will miss him dearly. Family and friends are invited to visit on Friday, May 11, 2012 beginning at 4:00 PM with a Vigil Service at 7:00 PM at the CHAPEL OF THE HIGHLANDS, 194 Millwood Drive at El Camino Real in Millbrae. The Funeral Mass will be celebrated on Saturday at 10:30 AM at St. Dunstan Catholic Church, 1133 Broadway in Millbrae where services will conclude. Donations in Mr. Leishman's memory may be made to the American Cancer Society, 1-800-227-2345.
Published in San Francisco Chronicle on May 10, 2012.2
Citations
[S2791] Sal Bigone, "Re: Your atDNA test has processed at FamilyTreeDNA," e-mail to Elaine Beaudoin, May 2, 2019, Email message also sent to Richard McIntyre and Joanie Zandona.
[S2792] San Francisco Chronicle, May 10, 2012, Online at https://www.legacy.com/obituaries/sfgate/obituary.aspx, Accessed May 6, 2019.
[S2794] PrivateEye, online PrivateEye.com, Gregory D. Leishman (68) accessed on May 5, 2019. https://www.privateeye.com/marriage/bride/Gregory+Leishman/
Andrew J. Leonard1,2
M, b. 2 December 1875, d. 20 April 1915
Andrew J. Leonard1,2,3
M, b. 13 July 1905, d. 8 July 1969
Andrew Joseph Leonard1
M, b. 24 June 1931, d. 11 August 2004
Citations
[S981] California Births, 1905-1995, online www.californiabirthindex.org, Andrew Joseph Leonard entry; accessed April 9, 2012.
[S2181] U. S. Social Security Applications and Claims Index, 1936-2007, online www.ancestry.com, Andrew Joseph Leonard.
[S1846] Andrew J. Leonard Cemetery grave marker, Holy Cross Cemetery, Colma, California, Photo provided by Sal Bigone, September 28, 2013.
Anthony Leonard1
M, b. circa 1912, d. 21 November 1914
Bartholomew John Leonard1,2
M, b. 29 March 1880, d. 17 May 1955