Mary Bowler
F, b. 22 April 1863, d. 28 August 1903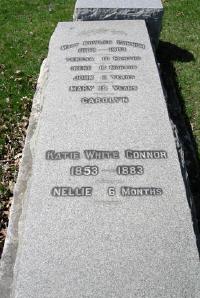 Connor/Bowler gravestone, Calvery Cemetery, Evanston, IL, South 1/2 Lot 14, Block 9, Section D
Family: John A.

Connor

b. b 16 Oct 1852, d. 8 Mar 1932
Francis John "Frank"

Connor

+ b. 20 Apr 1886, d. 1 Jul 1941
Loretta Miriam

Connor

b. 19 Sep 1887, d. 10 Sep 1965
Baby

Connor

b. 13 Jun 1888, d. 3 Sep 1888
Theresa

Connor

b. 14 Jun 1889, d. c 11 Apr 1890
Irene

Connor

b. 12 Jun 1892, d. 15 Oct 1893
Madeleine

Connor

+ b. 3 Jun 1894, d. 10 Apr 1931
Marcella

Connor

+ b. 15 Jun 1895, d. b 29 Dec 1967
Mary Elizabeth

Connor

b. 21 Feb 1898, d. 24 Jun 1917
John

Connor

b. 21 Feb 1898, d. 12 Feb 1900
Lucille

Connor

b. 16 Apr 1900, d. Jun 1986
Caroline "Carolyn" Jean

Connor

b. 15 Mar 1902, d. 15 Dec 1922
Patrick Bowler
M, b. 27 February 1866
Alfred Boyd1
M, b. 16 October 1919, d. 28 January 1925
Bridget Brady1,2
F, b. circa 1894, d. 6 November 1990
Elizabeth Brady1
F, b. circa 1851, d. before 12 March 1928
Birth*:

Elizabeth

Brady

was born circa 1851.1

Married Name:

Her married name was Kean.1

Marriage*:

She married Edward C.

Kean

, son of Peter

Kean

and Anne

Horan

.1

Death*:

Elizabeth Brady died before 12 March 1928 at Sinsinawa, Grant County, Wisconsin, USA.1

Burial*:

She was buried on 12 March 1928 at Calvary Cemetery, Evanston, Cook County, Illinois, USA, in lot 27, block 11, section R.1
Citations
[S2114] Edward Kean Cemetery Record, Calvary Cemetery, Evanston, Cook County, Illinois, USA.
William Joseph Brander1
M, b. 7 April 1933, d. 4 April 2012
Birth*:

William Joseph

Brander

was born on 7 April 1933 at Chicago, Cook County, Illinois, USA.1,2

Death*:

He died on 4 April 2012 at Chicago, Cook, Illinois, USA, at age 78;
WIlliam J. Brander, age 78, beloved husband of Sue A., nee Sullivan, for 53 years; loving father of William J. M.D. (Victoria, M.D.), Elizabeth, Michael (Dawn), Mary Cassara, Daniel (Jennifer), Kathleen, Thomas (Pamela), Margaret, James (Peggy), Patricia (Daniel) Elster and Jean (Kevin) Masukevich; proud grandfather of 26; and great-grandfather of two; dear brother of Jeannette Masek; loving son of the late William J. and Ida M. His life is marked by many accomplishments.
Most notably, he was an Eagle Scout, the valedictorian of St. George HS Class of '51, an American Contract Bridge League LIFE MASTER, a US Naval veteran and a member of the Barbershop Harmony Society (aka SPEBSQSA) for 58 years.
Visitation at Cooney Funeral Home, 625 Busse Hwy., Park Ridge, Monday from 2 to 9 p.m. Funeral, Tuesday 10:45 a.m. to Immaculate Conception Church.
Mass at 11:30 a.m. Interment All Saints Cemetery.
Chicago Tribune, April 8, 2012, page 31

In lieu of flowers, donations to Christian Brothers of the Midwest, 7650 S. County Line Rd., Burr Ridge 60527 or Rainbow Hospice www.rainbowhospice.org would be appreciated.

For info (847) 685-1002.1,3,2
John D. Brankin1,2,3
M, b. 1888, d. 6 March 1950
Birth*:

John D.

Brankin

was born in 1888.3

Marriage*:

He married Marguerite

Hoy

, daughter of Thomas H.

Hoy

and Mary

Sullivan

.1

Note*:

John D. Brankin and Marguerite

Hoy

It is believe they had a son, Richard Edward born March 13, 1926; died March 17, 1926. Buried in Calvary Cemetery, Lot 8, block 10, Section Z. on 13 March 1926 at Chicago, Cook County, Illinois, USA.4,5

Death*:

John D. Brankin died on 6 March 1950; BRANKIN - John D. Brankin, beloved husband of Marguerite, nee Hoy; fond father of Mrs. Marie Moulder, brother of Thomas, James, Edmund and the late Francis. Funeral Thursday, 10 a.m., from chapel 4245 W. Madison, to St. Mel's church. Interment Calvary. Member of A. L. Elec. post, No. 769.
Chicago Tribune, March 8, 1950, page 22.3

Burial*:

He was buried on 9 March 1950 at Calvary Cemetery, Evanston, Cook County, Illinois, USA.4
Patrick Brennan
M, b. 1912, d. 1982
Marriage*:

He married Annie

Haran

.1

Death*:

Patrick died in 1982.1
Citations
[S8] Ginty/McIntyre Family Tree, 1995 Elaine McIntyre Beaudoin, personal files.