Mary Anne McNulty1,2,3,4
F, b. 1872, d. 1930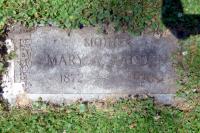 Mary McNulty Madden (1872-1930)
All Saints Cemetery
Photo: Elaine M. Beaudoin, July 1, 2017
Photograph by Picasa
Mary McNurney
F, b. 7 March 1855, d. 13 June 1930
Birth*:

Mary

McNurney

was born on 7 March 1855 at Boston, Suffolk County, Massachusetts, USA.1

Married Name:

Her married name was Deal.

Marriage*:

She married Henry M.

Deal

.

Address*:

As of June 1930, Mary McNurney and Henry M.

Deal

lived at 4919 Washington Boulevard, Chicago, Cook County, Illinois, USA.1

Death*:

Mary died on 13 June 1930 at 4949 W. Washington Boulevard, Chicago, Cook County, Illinois, USA, at age 75.2,1

Burial*:

Her body was interred on 16 June 1930 at Evanston, Cook County, Illinois, USA, at Calvary Cemetery.2,1
Robert Michael McSweeny1,2,3
M, b. 15 September 1927, d. 29 August 2005
Birth*:

Robert Michael

McSweeny

was born on 15 September 1927. Possibly born in Illinois as his Social Security card was issued in Illinois before 1951.4

Death*:

He died on 29 August 2005 at Arcadia, Los Angeles County, California, USA, at age 77.5,4
Maria Mercedez Henriquez1
F
Citations
[S2243] Paula Calderon, Birth registration: Sacacoyo, La Libertat, El Salvador, Accessed August, 2015; images provided by Marina McIntyre. FHL MF#1159173. (June 30 1887).
Sam Metzler1
M, b. circa 1910
Citations
[S1106] The Fresno Bee, August 11, 1964, page 12A.
[S1117] Barbara Jean Metzler, California birth certificate no. 891, Family History Library, Salt Lake City, Utah, MF#1876523 (December 15, 1938).
[S1118] Fresno County, Superior Court Petition for Citizenship, no. 4232, Family History Library, MF#1666770, from material at the American Historical Society of Germans from Russia, Fresno, California (May 6, 1935), California.
Anna Gertrude Moersch1
F, b. before 1800
Anne Monaghan1
F
Birth*:

Anne

Monaghan

was born; There are no births for an Anne Monaghan/Monohan born after 1864 in Cavan, County Cavan on irishgenealogy.ie.

Anecdote*:

(an unknown value).1

Residence*:

She lived at Leggen Denn, County Cavan, Ireland.1
Citations
[S2481] Sinead Donnelly, "Re: My Heritage Family Tree," e-mail to Elaine Beaudoin, Aoril 9, 2017.
Thomas Monaghan1,2
M
Marriage*:

Thomas

Monaghan

married Mary

McGivney

; Assumed before birth of Mary Monohan.1
Mary Monohan1,2
F, b. circa 1863, d. 2 December 1937
Birth:

Mary

Monohan

was born circa 1859 at County Cavan, Ireland.4

Birth*:

She was born circa 1863.5

Name Variation:

Mary Monohan was also known as Monaghan.3

Marriage*:

She married Michael

Donohoe

, son of James

Donohoe

, on 4 November 1886 at St. Matthew Church, Drumavaddy, Bellenaunagh, County Cavan, Ireland; Witnesses: Patrick Donohoe and Birdget McGivney. Patrick might be the brother of Michael.1,5

Married Name:

Her married name was Donohoe.1

Name Variation:

As of 17 September 1893, Mary Monohan was also known as Monaghan.6

Name Variation:

As of 28 February 1896, Mary Monohan was also known as Monaghan.7

Census 1901*:

She and Michael

Donohoe

appeared on the 1901 census of 31 March 1901; Also, a Rose Monaghan, servant, age 17 is listed on the 1901 Irish Census living with Michael and Mary Donohoe. She could be a niece to Mary Monaghan Donohoe, but cannot tell from the census. There was a Rose Monaghan born to a Philip Monaghan and Rose Fitzpatrick in Carrickaboy, July 20, 1884 but I can't find the marriage of Philip and Rose on irishgenealogy.ie to determine if Philip's father is Thomas, i.e., the same father as Mary Monohan.4

Residence*:

Mary Monohan and Michael

Donohoe

lived in 1907 at Denmore, Bellananagh, County Cavan, Ireland.2

Census 1911*:

Mary Monohan and Michael

Donohoe

appeared on the 1911 census of 1911 at Denmore, Denn, County Cavan, Ireland; The same Rose Monohan, now aged 26, is living with the family as was living with them in 1901.
The census states they have had 10 children with 8 currently living in 1911.8

Occupation*:

Mary Monohan was a school teacher. Teresa Sullivan Cahill said that Mary Monohan Donohoe taught in Drumavaddy. in 1911.9,10

Death*:

She died on 2 December 1937 at Denmore, County Cavan, Ireland.11