In August, 1998, Carole Keough and I traveled to Ireland taking a one week bus tour around the island and then spending several days on our own checking out various genealogical resources and sites. One day, we drove to the McIntyre Farm in Lislea, County Sligo. The farm at this time had been vacant for a couple of years as Tessie Haran Cafferty had sold the farm, to a neighbor farmer around 1993 (I believe) and went to live with her niece Breda O'Connor in Cheekpoint, County Waterford.
The farmhouse was in deplorable condition as it had no attention given to it in nearly five years.  The door was unlocked, so we entered the house.  On the wall of what used to be a bedroom, was a paper page from what appeared to have been an old calendar.  Carole encouraged me and I aquiessed to taking the picture home with me.
When I got home, I thought the image was quite beautiful and decided to have it framed.  The "calendar-page" image of the Sorrowful Mother now hangs in my bedroom.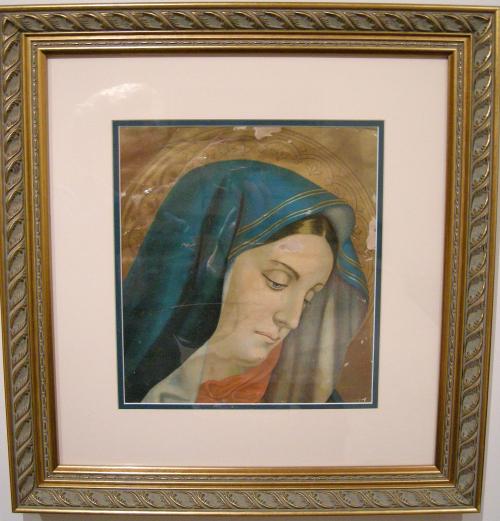 PORTRAIT, SORROWFUL MOTHER, ELAINE MCINTYRE BEAUDOIN