Almond Cranberry Sauce
Anne Jacobs, a member of CAGGNI and friend, shared this recipe from her sister, whom she called "Saintly Susan."  She suggested it because at the time I was having trouble getting my Mom to eat enough.  Anne said her sister would make this cranberry sauce and then generously apply it to many of the dishes served to their Mom.  I tried it and loved it.  My Mom, not so much.  However, I make it every Thanksgiving, it has a wonderful fresh taste and is ever so easy to make.
2 cups sugar
1 pound raw cranberries
1 cup cold water
7 tablespoons apricot jam
1/2 cup fresh lemon juice, about 2 large lemons
Blanched almonds, silvered, optional
Wash and pick over cranberries, set aside. In a large sauce pan, combine sugar and water and bring mixture to a boil, without stirring. Add cranberries, cook for 5 minutes or until the cranberries burst and become transparent. Remove the pan from the heat and add the apricot jam. Stir well, then add the lemon juice.  Chill the sauce thoroughly and finally add almonds. Serve in crystal bowl with mint leave to garnish.
Hints: Susan never picks over the berries and used them all. The almonds should be put in only when serving as they tend to turn red and are not as attractive.  She adds the almonds only for company and appearance using the sauce without for personal use.  This can be frozen and keeps for years in freezer and months in refrigerator. These hints were provided by Anne Jacobs and Elaine agrees with them all.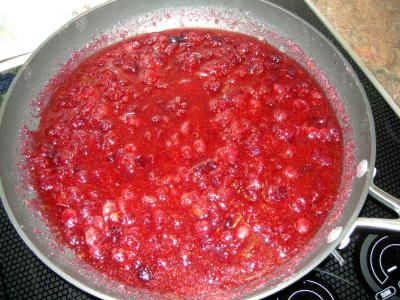 Anne Jacob's Cranberry Sauce