MEATLOAF - Helen Sullivan McIntyre
Helen made meatloaf often.  It was a meal the family liked.  This recipe, she called "Prize Winning" meat loaf.  Not sure how it got the name.
1 1/2 pound ground beef
3/4 cup oats (uncooked)
1/4 cup chopped onion (or 1 tblsp dry minced onion)
1 tsp salt
1/4 tsp pepper
1 cup tomato juice or small 8 oz Hunt's tomato sauce
1 egg, beaten
Combine all ingredients thoroughly. Pack firmly into 8 1/2 x 4 1/2 x 2 1/2 inch loaf pan, ungreased.  Bake in a preheated, moderate oven (350 degrees) 1 hour and 15 minutes.  Let stand 5 minutes before slicing.
For hamburgers - omit egg and reduce tomato juice to 1/2 cup.  Makes 8 patties.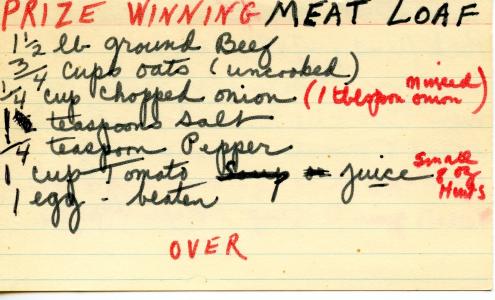 Helen Sullivan McIntyre's Meat Loaf