The passport was issued to Thomas J. McIntyre and his family in June 1923 in preparation for a trip to Ireland. Thomas, his wife Ellen and their five children all traveled on the one passport.
When Thomas McIntyre filled out the application, he listed his children with incorrect ages. He wrote "accompanied by my wife, Ellen, born Ireland, daughter Mary,9, born Chicago; son Lawrence, 7, born Chicago; daughter Blanche, 4, born Chicago; daughter Catherine, 4, born Chicago; son Thomas, 2, born Chicago." The ages of the children were actually: Mary 12, Lawrence 10, Blanche 9, Helen Patricia (Catherine) 7 and Thomas 3. I wonder if the cost of the ship's ticket was less for children under 10?
Thomas with his family and Thomas' sister Mary Egan, sailed from New York aboard the ship Caronia on June 30, 1923 to visit their parents, Lawrence and Mary McIntyre, in Lislea, County Sligo. The intent was for Thomas to take over the family farm, which, as oldest son, was the common thing to do.
However, I have been told that Thomas' father, Lawrence, asked Thomas to give him 100 pounds so Lawrence could use it for the dowry for one of Thomas' unwed sisters. Thomas balked and after visiting his parents for several weeks he collected up his family and set sail for the US.
The family left Ireland from Cobh, County Cork, on September 2, 1923 on the Ship Baltic and sailed into New York Harbor on September 8, 1923, stopping at Ellis Island before returning to Chicago.
The passport was framed by Thomas' son, Fr. Tom McIntyre, and given to Elaine Beaudoin when she visited Fr. Tom in California around 2000.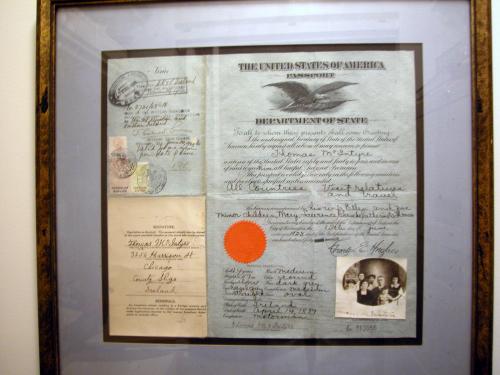 PASSPORT - THOMAS J. MCINTYRE AND FAMILY, 1923