Caramel Party Mix
2 boxes of Crispix cereal
1 can cashews
1 can honey roasted peanuts
Put these in a large roasting pan to help mix the rest together easier.
3 sticks butter
3 cups brown sugar
1.5 cups light corn syrup
Bring these last three ingredients to a boil for 2 minutes. Pour over the dry ingredients and stir. Bake 8 minutes at 350 degrees. Take out and stir, bake another 8 minutes. Pour on waxed paper or alum foil and cool.
Nancy is Elaine's third cousin via the Thomas(Thompson)/Reidy clan. Nancy descends through Mary Ellen Thomas Hallaran and Elaine descends through Bessie Thompson (Thomas) Madigan. Thank you Nancy for sharing a recipe to the Family Recipe Collection.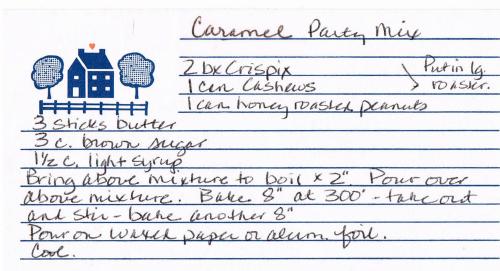 Caramel Party Mix