Christmas Day is always celebrated at Judy (White) and Rich Jesswein's home. She has been having Christmas Day for as long as I can remember. One dish she has often made is a delicious artichoke spread. A number of years ago, I asked her for her recipe. It follows:
ARTICHOKE SPREAD
2 cups parmesan cheese
2 cups Hellmann's mayo
2 15 oz. cans of artichoke hearts
1 tsp garlic powder -- (Note: if artichoke hearts are marinated, use 1/2 tsp garlic powder)
Sprinkle of paprika
Drain and cut up artichokes, mix together with cheese, mayo and garlic powder. Sprinkle top with paprika. Bake at 350 degrees until top is golden brown, approximately 1/2 to 3/4 of an hour.
Serve with small cocktail rye. Most yummy.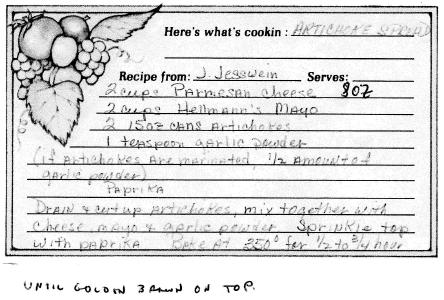 Judy White Jesswein's Artichoke Spread