Chocolate biscotti
2 C. All-Purpose flour
1 1/2 tsp. Baking powder
1/4 tsp. Salt
3/4 C. Sugar
1/2 C. (1 stick) Unsalted butter at room temperature/I use Kerry Gold
2 Large eggs room temperature
1 C. Semisweet chocolate chips
Preheat oven to 350. Line large baking sheet with parchment paper. In a medium bowl whisk together flour, baking powder & salt. In a large bowl cream the sugar, butter with electric mixer. Beat in the eggs one at a time. If you are adding a flavor extract, add at this point. Add the flour mixture and beat (I folded in the dry ingredients with a spatula) just until combined. Stir in chocolate chips.
Form the dough into a 16 inch long, 3 inch wide log on baking sheet. Bake until light & golden about 30 minutes. Cool on the baking sheet 30 minutes. Place the cooled log on a cutting board. Using a serrated knife cut the log on the diagonal into 1/2 to 3/4 inch slices. Place the biscotti cut side down on the baking sheet. Bake until pale golden about 15 mins. Transfer biscotti to a rack & cool completely.
Linda says: I've changed the chips for dried cranberries, or mixed 1/2 C chocolate, 1/2 C. cranberries. It's a good basic recipe and can change the add ins.
Linda Malone Frasca, daughter of Carleen Maher Malone and 3rd great-granddaughter of Patick Madigan (c1809-1884) and Margaret Fitzgerald (c1806-1886), posted this recipe on Facebook in January, 2016.
Elaine McIntyre Beaudoin has tried it and it is delicious. The basic recipe can have almost any 1 cup of ingredients added such as almonds and chocolate (plus 1 tsp almond extract) or coconut and pecans (plus 3/4 tsp coconut extract), to name two. Thank you Linda, for sharing this recipe.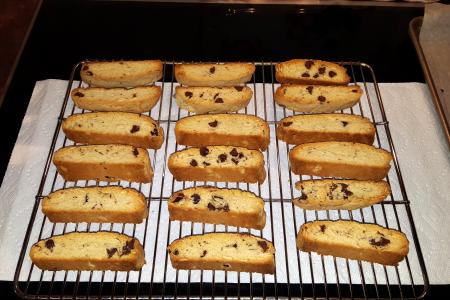 First batch of Almond/Chocolate biscottis made by Elaine from Linda's recipe.