Coconut Ice Squares
While traveling through Ireland in the summer of 2011, Elaine Beaudoin came upon the Bree, County Wexford summer faire.  At the event were several tables of food products - her first taste of the coconut ice squares convinced her this "cookie" needed to be added to the holiday cookie tray.
1 can condensed milk (396 grams)
12 oz powdered sugar, sifted (340 grams)
12 oz desiccated coconut (340 grams)
Optional food coloring
Place condensed milk into bowl and add the sifted powdered sugar. Stir well then mix in the desiccated coconut. The mixture will get firm and difficult to stir but continue until everything is combined. When I cannot stir any longer, I put on surgical gloves and mix it by hand. Divide the mixture into two and spread half into an 8 inch square pan which has been lined with parchment paper for easy removal. Add a few drops of food coloring (red is the traditional coloring to make the pink layer) and mix well with the second half of the mixture. Again, you will be more successful using your hands. Once the food color is completely integrated, break up the mixture into pieces, drop on top of the white layer in the 8 inch pan, and press over the bottom layer until smooth. Allow to set for a few hours. Cut into squares.

Note: This is the recipe used for Christmas, 2011. The next time, I might use another 1/4 to 1/3 can of condensed milk and let the mixture set overnight in the refrigerator before cutting into squares. Be sure to use desiccated coconut, traditional sweetened coconut makes the squares too sweet and the mixture doesn't firm up as well. For other holidays, consider different food coloring for the second layer. Makes approximately 3 dozen.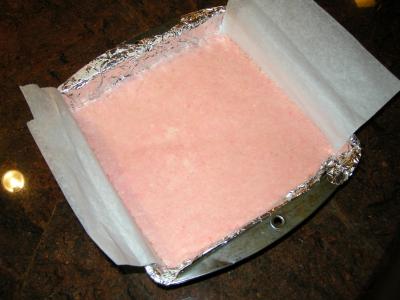 Elaine Beaudoin's Coconut Ice Squares