Chocolate Peanut Butter Squares
This recipe was originally provided by Kathy Jones who worked for many years with Elaine M. Beaudoin.  Since the early 1970s, Elaine has made these Chocolate Peanut Butter Squares for Thanksgiving and Christmas.
1 1/2 cups graham cracker crumbs
1 lb powdered sugar
1/2 lb melted margarine (or butter)
1 cup creamy peanut butter
14 oz chocolate chips, either milk or semi-sweet
Combine graham cracker crumbs and powdered sugar. Add melted margarine/butter, mix well. Add peanut butter and thoroughly mix. Spread combined ingredients, until smooth, over cookie sheet that has been covered with aluminum foil. Melt chocolate chips. Pour chocolate over graham cracker base. Use off-set spatula to smooth chocolate. Refrigerate for at least 4 hours or overnight to set. Cut into 1 1/2" squares. Makes approximately 5-6 dozen.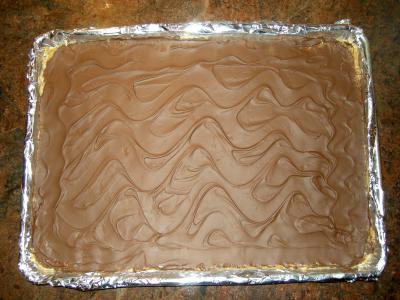 Elaine Beaudoin's Chocolate Peanut Butter Squares