Many years ago, when I was young and foolish, a good friend, Pat Mikos, shared this recipe with me. She had made it to bring to a concert in Grant Park which we were attending after work. Several of us sat on the wooden seats, passing the mousse, spreading it on Ritz crackers and drinking wine. I remember the moment very clearly, but not so much the music we went to hear.
Since that time in the early 70s, I have made this recipe for many of our family gatherings and shared it with numerous friends. The humor Pat shares in the write up of the recipe only adds to the enjoyment I have each time I make it. Take a look at the image of the original recipe. Hope you enjoy too!
SHRIMP MOUSSE SPREAD
1 can tomato soup, undiluted
1 cup mayo
3 - 3 oz packages cream cheese
2 cans tiny cocktail shrimp, drained
1 bunch green onions finely minced
1 cup finely chopped celery
1 1/2 packages Knox gelatin, dissolved in 1/4 cup water
Ritz crackers for spreading
Place tomato soup in saucepan over medium heat, bring to boil, stirring constantly. Remove from heat, add cream cheese and stir until cheese melts and is blended with soup.
Add the rest of the ingredients, adding gelatin, dissolved in hot water, last. Pour into mold that has been greased with a little mayo -- or pour directly into the container from which you will serve. Chill. Top with additional chopped green onion. Serve with Ritz crackers.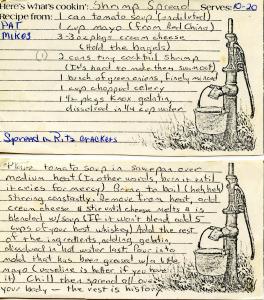 Elaine Beaudoin's Shrimp Mousse via Pat Mikos