Charles Reiss, great, great grandson of James and Anastasia Connor, is the owner of the family bible which he inherited from his mother.  Lori, his wife, told me her mother-in-law helped with the cleaning out of the Connor home at 1220 Maple in Evanston when the last of James C. Connor's children died.
The Holy Bible translated from the Latin Vulgate: Diligently compared with the Hebrew, Greek and other editions, was printed in 1871 by D. and J. Sadlier & Co., 31 Barclay Street, New York, New York. 
Mary, James and Anna's daughter, inscribed initial information regarding "marriages," "births," and "deaths" which occured prior to 1877 on the appropriate pages of the Bible on August 13, 1877.  The first entry noted is the marriage of James and Anna (Colfor) Connor in the parish of Taghmon, County Wexford, on August 7, 1842.  It is a possibility the Bible was given to James and Anna by Mary, or perhaps all of their children, in celebration of James and Anna's 35th Wedding Anniversary.
To view the four pages of the Bible where family members recorded milestones of the Connor family, go to http://connorcolfour.blogspot.com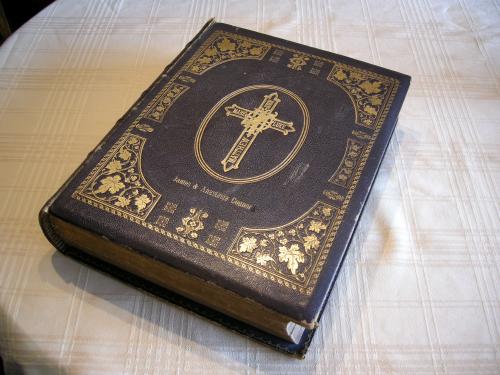 FAMILY BIBLE, JAMES AND ANASTASIA (COLFER) CONNOR