This wonderful recipe was provided by Sally Ruane Gilger, second cousin to my Dad, Larry McIntyre. Sally, born in Carrowbeg, County Mayo, Ireland, now lives in Chicago.  Sally told me she brought the recipe with her when she came to the US from Ireland. 
For family gatherings, Sally often makes this delicious bread. I've been lucky to take several slices home with me after events at her home. If the bread begins to stale, it makes very tasty toast. It also smell just wonderful both when it is baking and when it is later toasted. Enjoy.
Irish Ginger Bread
Combine the following ingredients:
2 cups of water
1 1/2 cups of sugar
1 stick of margarine or butter
3/4 cup of raisins
1 tsp of ginger
1/2 tsp of cinnamon
1/2 tsp of ground cloves
1/2 tsp of allspice
1/2 tsp of ground nutmeg
Bring the mixture to a boil and boil for three minutes. Cool completely.
Sift together:
4 cups of flour
pinch of salt
1 tsp baking soda
1 tsp baking powder
Make a well in the flour mixture and add the wet ingredients mixing just until flour is absorbed. Do not over mix. Pour into two 9-inch loaf pans that have been sprayed with Pam and dusted with flour.
Bake in a 325 degree oven for 45-55 minutes. Use a toothpick to test for doneness.  Cool for 10 minutes in pans. Turn bread onto a cooling rack and then turn right side up and let stand until completely cool.
Slice and spread with butter, eat!!!!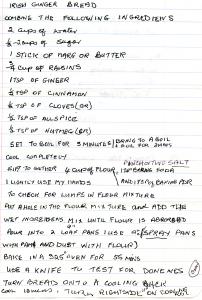 Sally Ruane Gilger's Irish Ginger Bread