The word poll is an English word that once meant "head" - and still does, in some specialized contexts - hence the name poll tax for a per-person tax. In the United States, however, the term has come to be used almost exclusively for a fixed tax applied to voting. Since "going to the polls" is a common idiom for voting (deriving from the fact that early voting involved head-counts), a new folk etymology has supplanted common knowledge of the phrase's true origins in America. 
It was not until the adoption of the 24th Amendment that poll taxes were made illegal as a prerequisite for voting in federal elections. That same prohibition was later extended to all elections.
In 1890, James Leonard, husband of Mary Ann McIntyre (daughter of immigrant Patrick McIntyre) paid his two dollars on April 21, 1890 so he could vote.  At the time, he was working at 135 Fremont Street, San Francisco, California.
Sal Bigone, James and Mary's descendent, provided a photo of this 1890 poll tax receipt.  Thank you, Sal.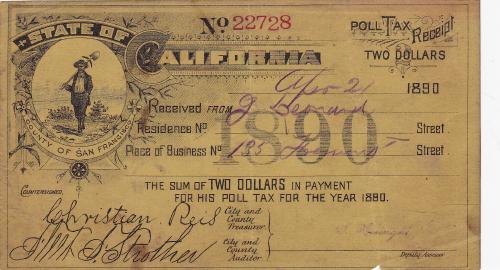 POLL TAX RECEIPT FROM 1890 - JAMES LEONARD