This small, 4 1/2 inch by 2 3/4 inch missal entitled: Manual of Catholic Devotions belonged to Alexander A. Sullivan.  On the inside first page, he has written "Alex Sullivan, 18 N. Latrobe Av, Chicago, Ill, Jan 30, 1933.
The Manual is published by Catholic Publications Press, New York and printed in Czechoslovakia with a "imprimatur" date of May 28, 1925.
It includes prayers for lay baptism, morning prayers, evening prayers, prayers at Mass, devotions for confession and holy communion, vespers for Sundays, and the Holy Way of the Cross among others.  The section covering prayers at Mass appears to be the most worn part of the missal.
On the inside rear blank page is written: 4-2-39 Cousin H(S?)illinger.  It is not known who this refers to.  The handwriting does not appear to be Alex Sullivan's.
The missal is currently kept with other genealogical heirlooms in the Resource Room of the Beaudoin's home.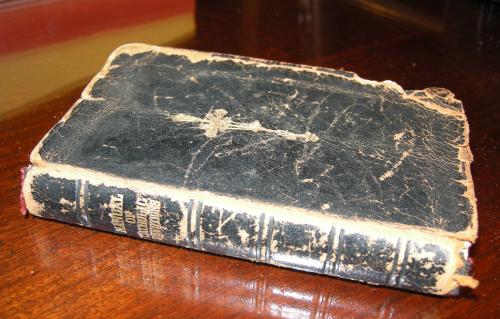 MISSAL, DEVOTIONAL; ALEXANDER A. SULLIVAN