Luise Kenney1
F, b. 22 April 1887
Citations
[S2017] Luise Kenny, Illinois Birth Certificate no. 1375, Accessed at FHL, February 9, 2015 (April 30, 1887).
Patrick Kenney1
M, b. circa May 1844, d. 23 November 1909
Family 2: Helen

(?)

b. 2 Nov 1850, d. 15 Mar 1928
Robert (Skip) Kenney Jr.
M, b. 4 January 1939, d. 8 November 2008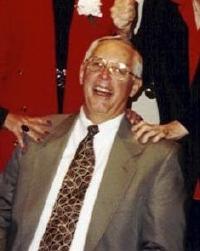 Robert Kenny, 2000
Robert Emmett Kenney1,2
M, b. 23 June 1900, d. circa 3 April 1958
Stephen Anthony Kenney1
M, b. 11 November 1956, d. 17 February 1971
Citations
[S2189] Brittany Reyes, "Family tree information on Edward Kenney family," e-mail to Elaine McIntyre Beaudoin, July 27, 2015.
Brian Kenny1
M, d. 1993
Biography*:

The oldest child. He was a priest based in California. He moved to the Philippines where he found a seminary in Quezon City. He passed away in 1993 and is buried in California.1

Death*:

Brian

Kenny

died in 1993.1
Citations
[S2548] Tom Kenny, "Tom Kenny email Dec. 24, 2017," e-mail to Elaine Beaudoin, December 24, 2017, Second email sent at 5:29 p.m.
Maria Christina Keul1
F, b. before 1772
Birth*:

Maria Christina

Keul

was born before 1772.1

Married Name:

As of before 1792,her married name was Etten.1

Marriage*:

She married Petrus

Etten

before 1792; Date based on date of marriage of daughter Anna Christina.1
Citations
[S1240] Germany Marriages, 1558-1929, online FamilySearch.org, FamilySearch.org, Blum-Etten Marriage, Katholische Kirche Walsdorf, Bamberg, Bayern, Germany, MF#559037, accessed October 15, 2010.
Alexander Patrick Kiley1
M, b. 1 March 1884, d. 5 April 1899
Patrick J. Kiley1
M, b. circa 1855, d. 23 March 1893
Catherine Kirby1,2,3
F, b. 19 December 1867, d. 27 December 1940