Stephen Anthony Kenney1
M, b. 11 November 1956, d. 17 February 1971
Citations
[S2189] Brittany Reyes, "Family tree information on Edward Kenney family," e-mail to Elaine McIntyre Beaudoin, July 27, 2015.
Brian Kenny1
M, d. 1993
Biography*:

The oldest child. He was a priest based in California. He moved to the Philippines where he found a seminary in Quezon City. He passed away in 1993 and is buried in California.1

Death*:

Brian

Kenny

died in 1993.1
Citations
[S2548] Tom Kenny, "Tom Kenny email Dec. 24, 2017," e-mail to Elaine Beaudoin, December 24, 2017, Second email sent at 5:29 p.m.
Maria Christina Keul1
F, b. before 1772
Birth*:

Maria Christina

Keul

was born before 1772.1

Married Name:

As of before 1792,her married name was Etten.1

Marriage*:

She married Petrus

Etten

before 1792; Date based on date of marriage of daughter Anna Christina.1
Citations
[S1240] Germany Marriages, 1558-1929, online FamilySearch.org, FamilySearch.org, Blum-Etten Marriage, Katholische Kirche Walsdorf, Bamberg, Bayern, Germany, MF#559037, accessed October 15, 2010.
Alexander Patrick Kiley1
M, b. 1 March 1884, d. 5 April 1899
Patrick J. Kiley1
M, b. circa 1855, d. 23 March 1893
Catherine Kirby1,2,3
F, b. 19 December 1867, d. 27 December 1940
James Kissane1
M, d. before 25 March 2015
James A. Kissane1,2
M, b. 15 June 1904, d. March 1986
Birth:

James A.

Kissane

was born in 1904.3

Birth*:

He was born on 15 June 1904 at County Kerry, Ireland.4,5

Marriage*:

He married Margarite Mary

Woods

, daughter of Michael

Woods

and Margaret "Maggie"

Madigan

, circa 1929.1

(Witness) Census 1930:

James A. Kissane appeared on the 1930 census of 9 April 1930 in the household of Mary "Mamie" Agnes

Madigan

at 3831 W. Polk Street, Chicago, Cook County, Illinois, USA; Michael and Margaret Woods died in the 1920s. Several of their children, her nieces and nephews, are living with Mary Madigan and her brother Michael Madigan.2

Occupation*:

James A. Kissane was Laborer at a public utility on 9 April 1930.2

Marriage:

He married Anastasia "Anna"

Woods

, daughter of Michael

Woods

and Margaret "Maggie"

Madigan

, circa 1959; Anna married her sister's husband sometime after her sister Marguerite died. Anna's first husband had died after only 5 years of marriage. I asked Carleen Maher Malone, niece of Anna and Marguerite Woods Kissane if her two aunts married the same man. She responded on April 13, 2011:
Yes they did. Anna was married to a Edward Druggan. They were only married about 5 yrs when he died of heart failure. He passed in 1950. Anna was the youngest of the Woods. Margarite Kissane was married about 27 years to James Kissane when she died. Their sister Patrica Fleming thought Anna and Jim should get together and started to play cupid. Many family members felt Anna was too young for Jim, but they married. I believe in 1959 and were married till Anna's death. I was crazy about my Aunt Anna she was the sweetest thing. She had one fault, she was meek. She was old before her time. Now that I'm looking at the date of her death, I can't believe it's been 30 yrs.6

Death*:

James A. Kissane died in March 1986 at Cook County, Illinois, USA, at age 81.3,4
Michael Emmett Kissane1,2
M, b. 22 April 1936, d. 20 June 2017
Barbara Knappstein1
F, b. 17 May 1861, d. 3 March 1931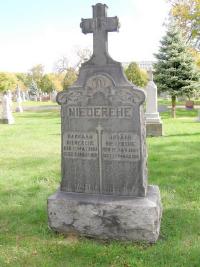 St. Benedict's Cemetery, Chicago