Catherine Houlahan
F, b. circa July 1847, d. 9 January 1912
Birth*:

Catherine

Houlahan

was born circa July 1847 at England; 1880 US Indiana Census; 1900 US Indiana Census.

Immigration*:

She immigrated in 1864; 1900 US Indiana Federal Census.

Marriage*:

She married John

McCann

on 16 September 1865 at Allen County, Indiana, USA; Indiana Marriage Collection, 1800-1941, Ancestry.com, W.P.A. Original Record located: County Clerk's Office, Book 6, OS Page 151.

Married Name:

As of 16 September 1865,her married name was McCann.

Death*:

Catherine Houlahan died on 9 January 1912 at Loogootee, Rutherford Township, Martin County, Indiana, USA; Indiana Deaths, 1882-1920 Record, County Health Office, Loogootee, Indiana, Book COH-12 on page 92 within the series produced by the Indiana Works Progress Administration.
Margaret Houlihan
F, b. 1902, d. 22 March 1976
Birth*:

Margaret

Houlihan

was born in 1902.1

Married Name:

Her married name was Kenney.2

Marriage*:

She married James Lester

Kenney

, son of John Patrick

Kenney

and Elizabeth

Hogan

.2

Death*:

Margaret Houlihan died on 22 March 1976 at Chicago, Cook County, Illinois, USA; Chicago Tribune, March 24, 1976

Margaret V. Kenney, nee Houlihan, March 22, 1976, beloved wife of James L. (Swede); loving mother of James J. (Kathleen), William (Betty) and Robert M. (Maureen) Kenney; dear grandmother of 19; great-grandmother of four; found sister of Loretta Houlihan, Alice Genau and the late Betty Hereley, Mary Schlag and Edward Houlihan. Funeral Thursday, at 9 a.m., from the Conboy Funeral Home, 6150 W. North Av., to St. Angela church. Mass 9:30. Interment Queen of Heaven. Visitation Wednesday from 3 until 10 p.m. 237-1134.2,3

Burial*:

Her body was interred on 25 March 1976 at Hillside, Cook County, Illinois, USA, at Queen of Heaven Cemetery.2
Lillian Howard1,2
F, b. circa 1886
Charles E. Hoy1
M, b. 1909, d. 14 June 1986
Edward Hoy
M, b. 1908, d. before 1915
Evelyn Hoy
F, b. 1897, d. 28 August 1968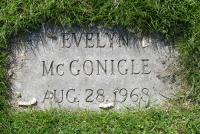 Evelyn McGonigle marker
Calvary Cemetery, Evanston, Illinois
Photo: Elaine Beaudoin
Photograph by Picasa
James Hoy
M, b. 9 March 1923, d. before 2007
Jane Hoy1
F, b. circa 18 August 1897, d. 2 November 1899
Marguerite Hoy1
F, b. 1896, d. before 22 November 1951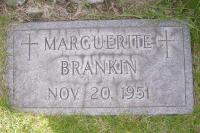 Marguerite Hoy Brankin
Calvary Cemetery, Evanston, Illinois
Photograph: Elaine Beaudoin
Photograph by Picasa
Marie Hoy
F, b. 1894, d. circa 30 July 1915
Birth*:

Marie was born in 1894.

Death*:

She died circa 30 July 1915 at Chicago, Cook County, Illinois, USA; HOY - Marie Hoy, suddenly, beloved daughter of Thomas H. and Mary, nee Sullivan, sister of T. Aloysius, Margaret, Evelyn, Philip, Charles, and the late Edward Hoy. Funeral Sunday at 11 a.m. from her parents' residence, 3917 Gladys av., to St. Mel's church. By autos to Calvary. Solemn high mass Monday morning at 9 a.m. at St. Mel's church for the repose of the soul of Marie Hoy.
Chicago Tribune, July 31, 1915, page 11.2

Burial*:

She was buried on 1 August 1915 at Calvary Cemetery, Chicago, Cook County, Illinois, USA.3