Eva Rosemary Stiglich1,2
F, b. circa 1920, d. 12 July 2018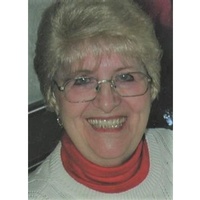 Eva Stiglich Woods
1920-2018
Photo courtesy: Steuerle Funeral Home
Birth*:

Eva Rosemary

Stiglich

was born circa 1920.3

Marriage*:

She married Emmett John

Woods

, son of Michael

Woods

and Margaret "Maggie"

Madigan

, on 17 May 1941 at Chicago, Cook County, Illinois, USA.1,4

Death*:

Eva Rosemary Stiglich died on 12 July 2018 at Villa Park, DuPage County, Illinois, USA; Her daughter Marion Woods wrote this on her Facebook page July 13, 2018:

"It is with heavy hearts that we inform you of Moms passing yesterday. We are grateful for the many years Our Lord granted us with her.
Mom's services will be held at Steuerle funeral home in Villa Park. The wake is on Monday, July 16 from 3 to 8 PM and burial Tuesday, July 17, from Saint Alexanders Church in Villa Park, gathering 9:15, Mass at 10:15."

Obit - Steuerle Funeral Home, online. https://www.meaningfulfunerals.net/?action=obituaries.obit_view&CFID=7ce6af3a-5202-46e4-8630-9a7160fad842&CFTOKEN=0&o_id=5009099&fh_id=12338
Eva R.Woods nee Stiglich 98 of Villa Park, IL. Loving mother of Rosemary (Liberio) Giovannelli, Emmett ( Marta), Marion Woods and Elissa-Lynne (Chris) Larsen. Dear Grandmother of Rosemary (Tom Robbins) Giovannelli, Lisa (Kevin) Price, Christine Giovannelli, Amy ( Brian) Nowak, Tracy (Ryan) Nero, Katy (Nick) Biewer, Kelly ( Brad) Syslo, Shannon (Justen) Penn and the late Keith Larsen. Great grandmother of Emma, Maddie, Lily, A.J., Billy, Rocco, Nicky ,Colette, Simone, Savannah, Victoria, Veronica, Tatum and Harlow. Fond aunt and great aunt of many.

Visitation Monday July 16, 2018 from 3:00 p.m. to 8:00 p.m. at Steuerle Funeral Home 350 S. Ardmore Ave. Villa Park, IL 60181. Funeral Tuesday, July 17, 2018 beginning at St.Alexander Church Gathering Space, 300 S. Cornell Avenue, Villa Park, IL. from 9:15 a.m. until time of Mass 10:15 a.m. Interment to follow at Mt. Carmel Cemetery Hillside Il.5

Burial*:

She was buried on 16 July 2018 at Mt Carmel Cemetery, Hillside, Cook County, Illinois, USA.3
Bertrand R. Stilwell1
M, b. circa 1873
Helen Irene Stilwell
F, b. 23 February 1921, d. 23 July 2006
Citations
[S1702] Cook County Clerk's Office Bureau of Vital Statistics entry, Cook County, Illinois Birth Certificates, Helen Irene Stilwell birth record. Accessed on line December, 2012; FHL film #1309493.
[S1955] Daniel Moore, "A couple more updated deaths," e-mail to Elaine Beaudoin, October 12, 2014.
[S1703] 1940 US Census, Illinois, Cook County, Chicago, Washington, DC, ED 103-3039; Page 5A, Ancestry.com, accessed January 30, 2013.
Marjorie Stinton1
F, b. 4 March 1920, d. 3 January 2002
Citations
[S1446] Kathy White, "Summary on your Father," e-mail to Elaine Beaudoin, January 4, 2011.
Victoria Stozek1
F, b. December 1894, d. September 1987
Citations
[S2383] Kenneth J. Leibach, "Family Tree, Version 1", Family Tree provided to Elaine M. Beaudoin by Kenneth J. Leibach, Jr., on September 28, 2016.
Adelaide Sullivan1
F, b. 1 March 1891, d. 23 October 1918
Adele Sullivan
F, b. 8 May 1899, d. before 12 October 1992
Agnes "Nancy" Sullivan
F, b. 21 January 1916, d. 8 October 1991
Agnes M. Sullivan
F, b. March 1880, d. 13 September 1964
Birth*:

Agnes was born at Illinois, USA, in March 1880.1

Residence:

She lived on 10 June 1880 at 30 Bremer Street, Chicago, Cook County, Illinois, USA.1

Married Name:

Her married name was Graser.2

Marriage*:

She married E. A.

Graser

.2

Residence:

Agnes M. Sullivan lived on 8 June 1900 at 188 Cass Street, Chicago, Cook County, Illinois, USA.3

Biography*:

There is a baby Graser buried November 10, 1916 in her father James Sullivan's cemetery plot Lot 3, Bl 24, Sect. Y. She was living in New York City in early 1916, so not sure if child is hers or her in-laws. No children are listed in her death notice.

Residence*:

She resided at New York City, New York County, New York, USA, on 19 June 1916, at 603 W. 140th Street.4,1

Residence:

She lived in 1964 at 5555 Sheridan Road, Chicago, Cook County, Illinois, USA.5

Death*:

She died on 13 September 1964 at Chicago, Cook County, Illinois, USA, at age 84.
Graser -- Agnes Graser, nee Sullivan, of 5555 Sheridan road, suddenly, beloved wife of the late Albert E; fond aunt of eleven nieces and nephews. Funeral Tuesday, 9:15 a.m., fro Hursen Chapel, 929 Belmont avenue, to St. Ita church, Mass 10:00 a.m. Interment local. Omit flowers, please.
Chicago Tribune, September 14, 1964, page C6.6,5

Funeral*:

She received the blessing of the church at the funeral on 15 September 1964 at St. Ita Church, Chicago, Cook County, Illinois, USA.5
Alexander Aloysius Sullivan
M, b. 24 March 1880, d. 26 January 1956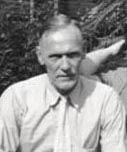 Alexander Sullivan, c1937
Birth*:

Alexander was born at Chicago, Cook County, Illinois, USA, on 24 March 1880. His birth certificate states that he was the seventh child born to this mother..1,2,3

Residence:

He lived on 24 March 1880 at 90 Sholto Street, Chicago, Cook County, Illinois, USA.1

Religion*:

He was Roman Catholic.4

Baptism:

He was baptized at Holy Family Church, Chicago, Cook County, Illinois, USA, on 28 March 1880 The sponsers listed for Alexander Sullivan's baptismal are James Haughey and Br. Kennedy. Br. is interpreted to be Bridget. Priest filling out the certificate: J. L. Setters, S.J.4,5

Census1880:

Alexander was listed as a son in an unknown person 's household on the 1880 Census at Chicago, Cook County, Illinois.6

Census1900*:

He was census 1900 on 8 June 1900 at Chicago, Cook County, Illinois.7

Employment*:

Alexander's occupation: Grocery Clerk at Father's Grocery Store, Chicago, Cook County, Illinois, USA, in 1900.8

Marriage License:

He and Ellen "Nellie" Theresa

Madigan

obtained a marriage license on 17 August 1907 at Chicago, Cook, Illinois, USA.9

Marriage*:

He married Ellen "Nellie" Theresa

Madigan

at St. Agatha Church, Chicago, Cook County, Illinois, USA, on 20 August 1907. Witnesses were Peter O'Sullivan and Clementine Madigan; Rev. D. O'Brien officiating..10,11,12

Occupation*:

Alexander Aloysius Sullivan was Steamfitter which is one who installs and repairs heating, ventilating, refrigerating, and air-conditioning systems in July 1908.13

Residence:

He and Ellen "Nellie" Theresa

Madigan

lived on 7 July 1908 at 1798 Fillmore Street, Chicago, Cook County, Illinois, USA.13

Census1910:

Alexander Aloysius Sullivan was census 1910 on 26 April 1910 at 3511 W. Fillmore Street, Chicago, Cook County, Illinois, USA; Bridget Madigan and her family also lived at this same address in 1910.14

Residence*:

He resided at Chicago, Cook, Illinois, USA, on 25 May 1915, at 3511 W. Fillmore Street.15

Address:

As of July 1915, Alexander Aloysius Sullivan lived at 3511 W. Fillmore Street, Chicago, Cook County, Illinois, USA.16

Residence:

He resided at Chicago, Cook, Illinois, USA, in 1917, at 3511 W. Fillmore Street.17

Employment:

He was employed on 12 September 1918 at 644 Washington Boulevard, Chicago, Cook County, Illinois, USA, as a Steam fitter with C. W. Johnson Incorporated.18

Residence:

He lived on 12 September 1918 at Chicago, Cook, Illinois, USA.19

Description*:

He was described as tall, slender, brown eyes, auburn hair on 12 September 1918.20

Note*:

He and Ellen "Nellie" Theresa

Madigan

bought the two flat located at 18 N. Latrobe, Chicago, sometime between 1918 and 1919.

Address*:

As of 13 December 1919, Alexander Aloysius Sullivan lived at 18 N. Latrobe Avenue, Chicago, Cook County, Illinois, USA.21

Occupation:

He was a steam fitter in a heating company on 6 January 1920 at Chicago, Cook County, Illinois, USA.22

Biography:

The Sullivans owned their own home which had a mortgage.22

Census1920*:

He lived on 6 January 1920 at 18 N. Latrobe, Chicago, Cook County, Illinois, USA. In 1920,The census lists Alexander Sullivan and family living on Lockwood, but they were actually on Latrobe. Lockwood was one block west of Latrobe.23

Occupation:

He was a manager in a steam fitter company on 12 April 1930 at Chicago, Cook County, Illinois.24

Biography*:

The Sullivans owned their own home and had a radio.24

Census1930:

He was census 1930 on 12 April 1930 at Chicago, Cook, Illinois, USA.25

Employment:

He was not employed on 3 April 1940. Alex states on the 1940 US Census that he was "seeking work" at the time of the census. In addition, he states he has been unemployed for 40 weeks prior to March 30, 1940.
When asked what his income was for the year ending December 31, 1939, he reported it as $2,200 for the year. He also notes that he only worked for 26 weeks in 1939.26

Biography:

Alex and Nell owned their own home in 1940 at 18 N. Latrobe. It was valued at $3,500. Robert and Agnes Hutchison were their tenants and paid $45 per month rent in 1940. The Hutchisons lived in the apartment that Helen and Larry McIntyre with Larry Jr., and Elaine moved into c1949.26

Occupation:

He was a steamfitter in a heating firm on 3 April 1940.26

Census 1940*:

He and Ellen "Nellie" Theresa

Madigan

appeared on the 1940 census of 3 April 1940 at Chicago, Cook, Illinois, USA.26

Employment:

Alexander Aloysius Sullivan was employed on 27 April 1942 at Mehring and Hanson, located at Jefferson and Randolph, Chicago, Illinois. Mehring and Hanson was founded in 1875 and was one of the nation's first natrional mechanical contractors and builder of many major projects such as The Pentagon in Washington D. C. It mergered with O. A. Wendt Co. who was a HVAC contractor for many of chicago's 1920 high rises and later large projects. Eventurally, Hill Mechanical acquired the right to use the Mehring-Hanson and Wendt, Inc.'s name and certain assets. This occured sometime in the 1980s. Source: Hill Mechanical Group webiste, www.hillmech.com/milestones.html accessed November 11, 2009.2

Description:

He was described as five feet, eleven and a half inches tall, weighed 165 pounds, had brown eyes, gray hair and a light complexion. on 27 April 1942.2

Residence:

He and Ellen "Nellie" Theresa

Madigan

lived on 27 April 1942 at Chicago, Cook, Illinois, USA. Nell was identified as the person who would know the address of Alex Sullivan on his WWII Registration Card.2

Biography:

Alex claimed his "Life Claim" for social security on August 10, 1945.3

Association:

Alexander Aloysius Sullivan was associated in 1955 at Knights of Columbus, Damen Council #650, Chicago, Cook County, Illinois, USA. "Thanks to the efforts of Father Michael J. McGivney, assistant pastor of St. Mary's Church in New Haven and some of his parishioners, the Connecticut state legislature on March 29, 1882, officially chartered the Knights of Columbus as a fraternal benefit society. The Order is still true to its founding principles of charity, unity and fraternity.
The Knights was formed to render financial aid to members and their families. Mutual aid and assistance are offered to sick, disabled and needy members and their families. Social and intellectual fellowship is promoted among members and their families through educational, charitable, religious, social welfare, war relief and public relief works.
The history of the Order shows how the foresight of Father Michael J. McGivney, whose cause for sainthood is being investigated by the Vatican, brought about what has become the world's foremost Catholic fraternal benefit society. The Order has helped families obtain economic security and stability through its life insurance, annuity and long-term care programs, and has contributed time and energy worldwide to service in communities.
The Knights of Columbus has grown from several members in one council to more than 13,000 councils and 1.7 million members throughout the United States, Canada, the Philippines, Mexico, Poland, the Dominican Republic, Puerto Rico, Panama, the Bahamas, the Virgin Islands, Cuba, Guatemala, Guam and Saipan." Source: http://www.kofc.org.27

Association*:

He was associated in 1955 at Chicago, Cook, Illinois, USA. Pipe Fitters Union, Local No. 597. Chicago has played an instrumental role in the development of the piping industry since the inception of unions. The original UA headquarters was located in Chicago. Shortly after the UA was formed, the Steam Fitters' Protection Association Local 2 of the International Association was organized, holding their first meeting at the Plasterers' Hall in 1885.

Workers were on the job 10-12 hours a day, six days a week. Safety of workers was not a concern to most employers. Wages were low, and workers had no protection against medical bills if they were injured on the job. With the establishment of the Protection Association, steamfitters were able to negotiate with their employers, striking for the first time in 1886 to get an eight hour work day. Further negotiations brought health benefits and retirement plans to protect workers from unforeseen disaster.

Local 597 has enjoyed a stable history, electing only three business managers since 1900 when "Walking Delegates" were replaced by Business Managers. Charles Rau served his union well for 50 years, 1901 - 1951. Martin J. Ward served as Business Manager from 1951 – 1958.
Francis X. McCartin became a legend in the labor movement during his 43 years as Business Manager 1958 - 2001. The Francis X. McCartin Training Center became Chicago's first union apprenticeship training facility.
Elected in 2001, James Buchanan took apprenticeship training to a new level, with the construction of a state-of-the-art training facility in Mokena, Illinois. Through Mr. Buchanan's leadership Local 597 has seen changes in benefits and wages that improve the quality of life for its members.

In 1960 John F. Kennedy said, "Those who would destroy or further limit the rights of organized labor – those who would cripple collective bargaining or prevent organization of the unorganized – do a disservice to the cause of democracy." Local 597 has indeed fought to keep America's standard of living one of the highest in the world, through fair wages, reasonable working hours and the safest possible working conditions for its members. Source: Local 597 Pipe Fitters Union webpage, accessed October 11, 2009. http://www.pf597.org/aboutus.html.27

Biography:

ASHES BLAMED IN $600 FIRE IN APARTMENT
A fire broke out late Monday morning at 18 N. Latrobe. Three engine companies responded to the fire which caused $600 damage. The fire started in the basement near the boiler. Hot ashes removed from the furnace caused some near-by rubbish to burn, firemen said.
The fire spread to a first floor bedroom. The building, a two-story apartment, is owned by Alexander Sullivan, who lives on the second floor.
Three engine streams were used to put out the blaze. The companies were 96, 67, and 113. Damage to the building was estimated at $500 and $100 to contents.
Chicago Austin News, November 9, 1955, page 27.28

Biography*:

Alex spent his entire 75 years living in the city of Chicago.29

Death*:

Alexander died on 26 January 1956 at Chicago, Cook, Illinois, USA, at age 75. Dr. William Fitzgerald was Alexander's doctor. His office was at 5158 W. Madison Street, about two blocks from Alex's home.
Death Notice: Sullivan - Alexander A. Sullivan, beloved husband of Nell Madigan Sullivan; fond father of Thomas and Helen McIntyre; grandfather of Thomas Sullivan, Larry and Elaine McIntyre; brother of the Rev. Charles, S.J., and Philip Sullivan. Funderal Monday, 9:30 a.m. from chapel, 5911 W. Madison street, to St. Thomas Aquinas church. Interment Queen of Heaven. Member of Pipe Fitters union, local No. 597, and Damen council, No. 650, K. of C. EStebrook 8-7500. Chicago Daily Tribune, January 28, 1956, page 10.
A similar death notice ran in The Austin News, February 1, 1956, page 19..29,27

Residence*:

He and Ellen "Nellie" Theresa

Madigan

lived on 26 January 1956 at 18 N. Latrobe Avenue, Chicago, Cook County, Illinois, USA.29

Misc*:

Alexander Aloysius Sullivan was was waked for two nights between 27 January 1956 and 29 January 1956 at 5911 W. Madison Street, Chicago, Cook County, Illinois, USA.29

Funeral:

He received the blessing of the church at the funeral on 30 January 1956 at St. Thomas Aquinas Church, Chicago, Cook County, Illinois, USA.27

Burial*:

His body was interred on 30 January 1956 at Hillside, Cook County, Illinois, USA, at Queen of Heaven Cemetery. Alex is buried with his wife Nell, his daughter Helen and her husband, Lawrence F. McIntyre in Lot 104, Block 8, section 20. The GPS coordinates of the grave are: Lat 41.857471N, Log 87.908356W, Alt: 679 feet.30,27

Blog*:

He and Ellen "Nellie" Theresa

Madigan

were mentioned in a blog at http://sullivanmadigan.blogspot.com Sullivan/Madigan Genealogy Blog on 18 February 2010.31

Blog:

Alexander Aloysius Sullivan and Ellen "Nellie" Theresa

Madigan

were mentioned in a blog at http://sullivanmadigan.blogspot.com McIntyre/Walsh Genealogy Blog on 18 February 2010.

Blog*:

Alexander Aloysius Sullivan was mentioned in a blog at http://sullivanconnor.blogspot.com Sullivan/Connor Genealogy Blog
on 19 February 2010.31

Blog:

He was mentioned in a blog at http://madiganthompson.blogspot.com Madigan/Thompson Genealogy Blog on 12 March 2010.31